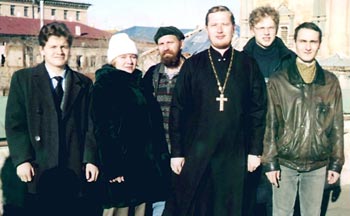 "Assembly" is a part of Orthodox youth project. Its aim is to bring society and church closer to each other. The crises in all domains of our modern social and state life resulted in the spiritual disorientation of many of citizens and loss of sense of life. A lot of young people joined shady religious sects, became drug and alcohol addicts. The rating of suicides is high and the level of crime is mounting.
We must be assembled all together so that we can oppose the overwhelming chaos. Our century has witnessed many human unions and associations: some were based on money, others on political interest but in the end they led to new hostility. The Church is not like the bodies, which constitute the civic state (political, governmental, legislative bodies), because it is the Body of Christ, where everyone is a part of the whole and thus Church is by its nature an Assembly. "For where two or three are gathered together in My name, I am there in the midst of them." (Mtth, 18,20)
Our magazine is therefore called "Assembly". It is devoted to a contemporary young man and we'll cover topics, which are especially interesting for a youth. That doesn't mean that we won't listen to people of other views, those who doubt or proclaim themselves atheists. On the contrary our magazine is devoted to them, as well as to those who have already entered the church. We want to become such an assembly, which will be the place to answer the questions that separate us. Our aim is to say the truth about man, world, death, pain and after all, joy,which is often forgotten. We will search with you for the most important question for any man: his destination and the sense of life, so that we can "breathe with full breast Heaven, Spirit and Love" as one orthodox theologian said. We invite all those who seek and think to take part in our discussion.